Human resources :
A Management and Identification Unit based in Jurançon with the mission of identifying and managing recoveries in France and abroad
A network of technicians spread over France to :


Search and identify stolen vehicles
Provide assistance to public authorities
Provide training to police and gendarmes

A branch in Spain / Portugal and a network of correspondents in Europe and in the Maghreb countries.
The full-time secondment of an active Divisional Police Commissioner who facilitates and animates relations with the Public Forces Technical resources:
Technical means :
The ARGOS information system :
ARGOS is developing its specific vehicle research and analysis tools and has various sources of information :

ARGOS ID In 2017, ARGOS developed this application, in order to capitalize on its know-how acquired in the field for over 30 years.
ARGOS ID is a technical database allowing the identification of stolen / tampered vehicles. This tool includes a gallery of 700 vehicles. Each referenced model has videos and photos to locate its various identification points precisely and easily (chassis numbers, engine, etc.). Training modules and case studies in identification and anti-theft are being gradually added to this platform.

Years of experience in the automobile world and access to databases of automobile manufacturers give ARGOS a proven expertise and know-how in in the field of vehicle identification.
ARGOS wished to make its skills available by developing awareness and training modules provided to public authorities (police and gendarmes, etc.) in order to:
Improve their knowledge of stolen vehicles,
discover new control techniques that are practical, rapid and applicable in their daily work.
test and maintain their skill level.
These training courses are completely free and take place in person and via our e-learning platform. As part of the development of its training course, ARGOS has created an e-learning platform in order to make training materials available to public authorities.
One of the advantages of this e-learning platform is the possibility of setting up learning carried out 100% online, without face-to-face. ARGOS CAMPUS currently offers a knowledge check in the form of a quiz, to be carried out after the first training.
Gradually, other materials will be made available on ARGOS CAMPUS.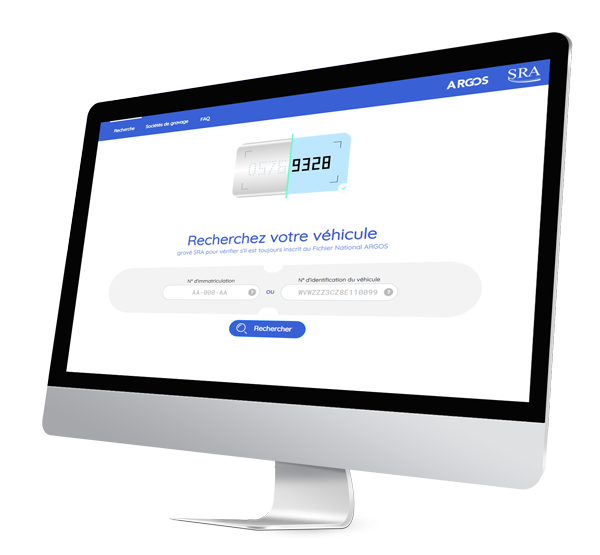 This website for consulting the national file of engraved vehicles is intended for the general public.
Any individual can check for himself whether a vehicle is the subject of an active engraving contract by carrying out a search on this website.
Searches are done simply by entering either the registration number or the vehicle identification number.
In the event of a positive response, the user is invited to contact the engraving company that issued the contract. If necessary, he will find on this site the list of engraving companies referenced by the SRA.